St. Paul Winter Carnival
Exhibition by Kristina Johnson
Located within the Otto Bremer Room at the George Latimer Central Library in downtown St. Paul, Minnesota.
January 29th to February 6th, 2022

Celebrated for nearly 130 years, the St. Paul Winter Carnival is one of our nation's oldest and greatest seasonal traditions. Special events sponsored by major local businesses began in the late 1880s as a way to reinvigorate the spirit of the North during its most desolate months. For the artist Kristina Johnson, the Carnival is a way to connect to her family and their strongly rooted ties to Minnesota's history. Johnson is the great, great, great granddaughter of Jacob Schmidt, founder of the Schmidt Brewery; and the great granddaughter of Edward G. Bremer, a St. Paul banker who was kidnapped by the infamous Barker-Karpis gang in 1934. This exhibition is a unique display of Johnson's drawings interwoven with heirloom treasures from her family's personal archive, highlighting the multiple generations of relatives who all grew up enjoying the Winter Carnival.

Kristina Johnson is an artist and curator currently living in Minneapolis, Minnesota. She runs Waiting Room, an arts platform that directly supports the cultivation of art and culture within the Twin Cities. Johnson has curated exhibitions exploring critical questions about the relationship of art to abstraction, the environment, social concerns, political issues and theories of identity, individuation, and subjectivation. Her curatorial work has been featured in Artforum's "Critics' Picks"; as well as personally featured in local Twin Cities publications such as City Pages, MNDaily, and Star Tribune.

The Saint Paul Winter Carnival is produced by the Saint Paul Festival and Heritage Foundation and is funded by private donations and corporate contributions. The Board of Directors, supported by hundreds of corporate and individual members, employs a full time staff to help plan this community celebration.

---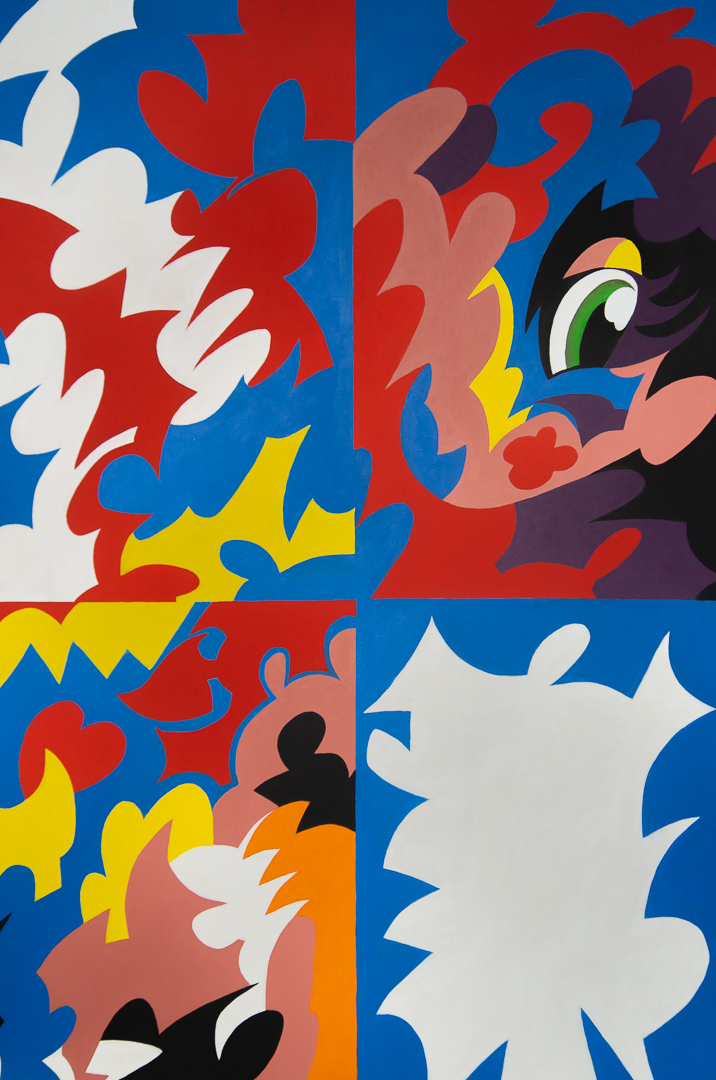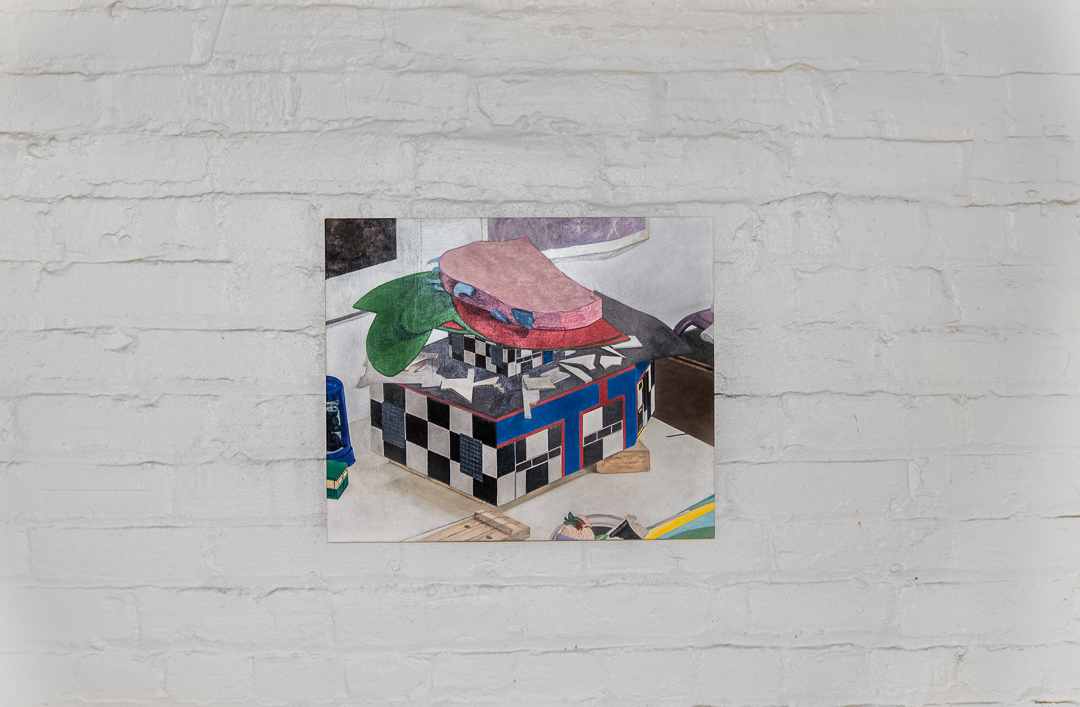 I forgot my day
July 30th, 2021-August 29th, 2021
Opening on Friday, July 30th from 5pm to 9pm
Walk in hours on Saturdays/Sundays from 2pm to 5pm

On a Summer day in 2018, I noticed a letter taped to the front door of my apartment from one neighbor addressed to another whose contents I think about often. The frontal facing page read, "Dear Neighbor Lady, I apologize for not getting back to you this A.M. with the jumper cables as promised… Most days I feel like Drew Barrymoore in the movie 50 1st Dates!!! Please contact me if you would like to perhaps join me for a cup of coffee and I would like to get to know my…" with the remainder of the letter cut off from the ellipses. While not personally addressed to myself, this note adhered to a piece of pink construction paper has stuck with me ever since my discovery of it as an abstract on the beauty of time, forgetting, and memory. From this remorseful invitation to a cup of coffee from one neighbor to another, regardless of the outcome of the event described in the letter, an impact of connection between two strangers was made, and ultimately, initiated by a neglect towards memory.

In July of 1937, an abnormally large three-pronged footprint was found impressed into the sand of a beach in Coatue, a small town located on the island of Nantucket. Its discovery generated mass excitement and curious fear amidst the community, as sightings of oceanic monsters had been found on several occasions by people in the area earlier in the season and years prior. Days after the discovery of the mysterious footstep, a local fisherman spotted a colossal one hundred twenty foot spike-spined mass that hovered above the water. Local news outlets reported on the matter, which generated an interest so great that the story of the unknown beast was pursued further by media corporations across the country. The mass hysteria was drawn to a close one Summer morning when the monster was found beached on the shore. Much to the surprise of the community—but not that of the scientific community investigating the situation—the elusive creature was not a prehistoric amphibian whatsoever, but a Macy's Thanksgiving Day Parade balloon, filled with nine thousand pounds of compressed air. These shocking moments were masterminded over several months by the American puppeteer Tony Sarg. His use of the twenty-six fanged rubber serpent proved to be the spectacle of the Summer. What began as a fear of the unknown quickly escalated into a confrontation of past and future fabled beings. A worldwide publicity stunt, concocted by Sarg, incited joy, heirloom family photographs, and shared public wonder amongst the local community and the world watching. Albeit Sarg's serpent situates itself as only one microcosmic component in history stemming past that point in July of 1937, it's folkloric and unbelievable personality becomes nostalgic for the people who partook in its happening, alongside the people who are only present in its happening through its archived documentation.

"I forgot my day" stands as a chronicling of engagement with these magical acts. A nostalgic importance is set on the memorable but history-stricken outcomes of navigating the world through shared yet unfamiliar moments similar to witnessing Sarg's beached serpent or meeting a neighbor over coffee. The participating artists in "I forgot my day" examine the intimate yet impersonal nature of humanity. Throughout the exhibition are referential interactions and less literal imagined confrontations with time. The artists present us with feelings of humor, nostalgia, and nothingness which become harmoniously woven into homeroom's encapsulating basement space and history.

Thomas Moore's Grape stuck in ceiling heaven (2020) portrays a miniature scale view of an inverted ceiling, proposing the viewers with a question of, "What if your surroundings were flipped upside down?" His dissection of how space and dreams function in reality are testing the limits of what a space and its memory are capable of when twisted and anatomized. In the same vein of analysis on memory illusion, Moore's work initiates a conversation with the paintings from Kelsey Olson. T&T (2021), depicts a realistic view into Olson's Minneapolis studio. Its title is a direct reference to an auto repair shop in Northeast Minneapolis of the same name. The image centers on a miniature wooden model of the auto repair shop surrounded by studio tools and personal trinkets. Olson's Trompe-l'œil technique renders materials to alter the recollection of the auto body shop it honors; this painting documents a seemingly unreal (but real) place. The use of materials by each artist maneuvers one's perspective on dimension, both Moore and Olson work to appreciate the oddities and comfort of tangible space.

The criticism and survey of nostalgia are defining elements of Michael C.F. Hansen's and Preston Dorsett's work. C.F. Hansen utilizes digital video and painting to direct a stream of consciousness breakdown of an idealized Midwestern life. He colorfully composes an amalgamation of imagery taken from zoos, religious symbolism, small towns, influential music, and graphic design. An orchestration of abstract references visually present themselves in composition, creating a consistent tempo in each of his video works. Symbols rapidly spiral across the monitor, alluding to his passion towards animal rights in conjunction with the typical social ephemera associated with the American Midwestern mentality. Across from C.F. Hansen's painting, Untitled (2021), sits one of five stools made by Preston Dorsett. Dorsett's Recreation of Les Arcs Stool (2021) is critical of similar social and historical cues to those of C.F. Hansen, but are guided by issues of historical classism and accessibility. Initially designed by French architect Charlotte Perriand, Dorsett alters its originally intended opulence by recreating five stools from discount and plastic lumber. This altering of material sheds light on the stool's immediate function and its historical use as an emblem of affluence. Both Dorsett and C.F. Hansen utilize appropriation in order to initiate the recontextualization of an object or symbol.

Compressed Fantasy (Green Eye) (2021) by Sam Larom leads the viewer through boldly colored abstractions divided into quadrants. Located in the upper right quadrant of Larom's six foot tall canvas sits a mark discernible as a caricature of a cartoon eye. The other three quadrants depict fragments of hard lines and strikes of bold swoops, directing the viewer back to the comfort of recognized imagery in the aforementioned quadrant. Larom uses abstraction as a way to create associations to the identifiable. Like Larom, Matt Yaeger's scanned image titled Tongue of Eyes (2021) employs abstraction to comment on the fracturing of the body and imagery found in digital stimuli. Text bubbles, emoticons, and bodily forms are shown under an LED scanner-bed-like green lit frame in Tongue of Eyes (2021). These demarcations of conversation smokily chronicle instances of physical interaction to inform digital dialogue. Forgetfulness is set into Larom and Yaeger's work by splitting up and zoning in on real world experience in order to become a contemporary tool for remembering.

"I forgot my day" is a sum of these instances where humankind forgets aspects of itself and all that it surrounds to make new meanings of humanity. An exhibition held in a century old structure imbued with memory, the works included in the exhibition lend an appreciative hand to the un-momentous of the everyday and imagined, noting that the magic behind the unmonumental is paradoxically monumental. The artists uniquely identify the degrees in which forgetfulness of the past, present, and future create the remembered facets of humanity through a myriad of executions.

Featuring
Preston Dorsett (he/him) is a designer living and working in Minneapolis, Minnesota. He is currently positioned between the worlds of furniture making at Concrete Pig and city planning at Juxtaposition Arts. These two perspectives exist in his artistic work as simultaneous experimentations of material fabrication and social study. His current effort is to explore the failures and successes of the European Midcentury Modernists by bootlegging their highly valued original designs.

Michael C.F Hansen (he/him) is an interdisciplinary artist living and working in Minneapolis, Minnesota. Primarily focusing on videography, he earned his BFA in New Genres from the San Francisco Art Institute ('19).

Sam Larom (he/him) is a South Korean born painter who received his BFA from the Minneapolis College of Art and Design in 2019. Currently, he lives and works in Minneapolis, Minnesota.

Thomas Moore (he/him) is a Chicago, Illinois based artist from Columbus, Ohio. Moore's work is referential to the fantasies which accrue from a personal visual lexicon of idealized Midwestern dreamscapes, similar to parking garages, convention centers, and malls. Moore's work regards the effects dreams have on these remembered and invented landscapes, oftentimes exaggerating the purpose of scale and personality of space as a reaction to how these purposes might shift seamlessly during a dream. Another point of interest within these works are the fictitious paths and environments created for a point-and-click game character's pursuit of a goal which lays out a destiny before the adventure takes place, proving the landscape's impact upon the individual.

Kelsey Olson (she/her) is an artist that makes paintings and photo process works. She received her BFA from the Minneapolis College of Art and Design in 2010 and was a recipient of the 2016-17 Jerome Emerging Artists Fellowship. She has participated in group and solo exhibitions throughout Minneapolis and Minnesota, including at the Rochester Art Center and St. Cloud State University. Olson is from Montana and lives in Minneapolis.

Matt Yaeger (he/him) is a Minneapolis artist who works in painting, print and sculpture. His work explores aspects of digital social culture framed within science fiction narratives. He is interested in how the abstract space of text messages, DMs, news feeds, and other forms of digital consumption become psychologically and emotionally pervasive, shaping how we think, feel, and live.

---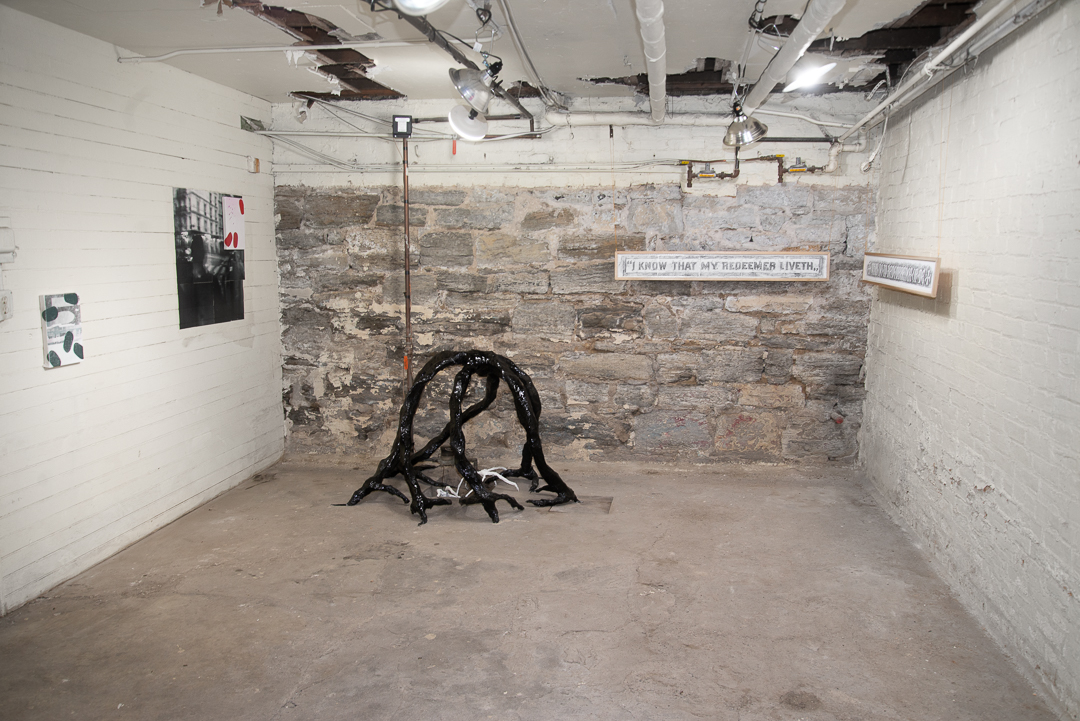 camedowndifferent
homeroom
June 6, 2021-July 7, 2021

Featuring
Kate Burke
Andrew CS
Micah Dillman
Sam Dirck
Harrison Wayne Gallo
Rene Gibson
Reade Gosen
Jordan Homstad
Kayla Mattes
Kieran Myles-Andrés Tverbakk
Lee Noble

After nearly a year without formal programming or events, Waiting Room is eager to welcome guests into their new space, homeroom, and celebrate with peers and patrons.

Off the intersections of Franklin and Chicago, in the heart of Ventura Village, is Waiting Room's newest exhibition space homeroom. The building itself is currently home to Waiting Room's director Kristina Johnson (KJ). homeroom situates itself far from the traditional gallery space by preserving the charm of its history that enhance the curatorial perspective and bring attention to it's architecture and age. The perimeters of the showrooms date back to 1893 and are constructed from laid stone, brick, and shiplap. Exhibitions in our forthcoming season feature an impressive array of contemporary talent that expand the growing genres in identity culture and technology.

The selected works featured in our inaugural show, camedowndifferent, come from ten emerging and established artists living across the US. camedowndifferent offers unconventional associations between artists seldom exhibited together, implicitly exploring the diverse relationships amongst their medias. Works in this show harness feelings of existential mortality by the visual signifiers through use of coded imagery and language in order to provide a particularly overwhelming sense of one's humor, memory, and conditional identity. There's a breath – well, a lot of breaths – of edifying inward energy available in that approach, and that's exactly where these artists shine their spotlight. Altogether the works exhibit a surge of communal confidence in the face of upending travails.

homeroom is devoted to experimentation, discussion and the production of exhibition projects, presentations, lectures, and publishing ventures in collaboration with artists, curators, independent and institutional actors. The exhibition program is mainly focused on a new generation of artists who are rarely exhibited in town or Minnesota.

Kate Burke (she/her) is an Atlanta-based mixed-media and textile artist. Kate graduated with honors from the University of Georgia, receiving her BFA in Fabric Design in 2016. While in school, she received the Mary Rosenblatt Art Scholarship and recently received the ArtFields 2019 Category Award for Textiles. Kate has shown at the Lyndon House Art Center, ATHICA, Sulfur Studios, the Lamar Dodd School of Art, Hartsfield Jackson International, whitespec, as well as other galleries and art centers throughout the southeast. Kate recently returned from a residency at the Hambidge Center, with thanks to the Hambidge Center Fulton County Scholarship.

Andrew CS (he/him) is a web designer, creative programmer, and media-agnostic artist living in Chicago, IL. Andrew is interested in media as memory, or media over time, or something like that. Memory in the mind forms misty trails, but media (ink, computers, microphones, objects, & data) can create discrete imprints of time and pace at a given resolution. Make an archive of these and you have a time capsule, a prosthetic memory, or a time travel mechanism. Just as memory must define oneself (as the sum of experiences) so too does the archive. Kept close these efforts become a record of gestures made, places felt, still listening sessions, observations, time with friends, and time to oneself.

Micah Dillman (they/he) is a queer performance and textile artist based out of Chicago, IL. His textile and fiber work commonly employs motifs and materials that recall associations to early childhood stages of development. Early learning experiences are the basis of how we inform our identity as adults and especially how we internalize the performative behaviors relative to a constructed gender identity. Dillman's work explicitly questions their agency in that experience.

Sam Dirck (he/him) accommodates limitless arrangements of environments that criticize the function of one's spatial relationship to design. His use of materials reinforces the idea that our identity is moulded through memories and that we exist paradoxically as multiple selves.

Harrison Gallo (he/him) is an artist born and raised in Atlanta, GA. Having worked in research and industrial laboratories as an experimental chemist for several years, his practice is informed by a reckless passion for research, rapid prototyping, and making sense out of errant data points. Approaching new concepts and materials with a capricious yet obsessive attitude, his current work mixes carbon media, recycled industrial waste materials, and religious motifs in order to explore his overlapping experiences with grief, memory, and sex.

Rene Gibson (he/him) is a painter that lives in New Zealand.

Reade Gosen (he/him) is an interdisciplinary artist working mainly in music (as Sweet Reade) and body art. He's the orignal real daddy badass of Minneapolis and also your favorite uncle. Gosen employs his sharp wit and sense of humor to relay the absurdity of modern life. Currently, he is tattooing out of Sea Wolf Tattoos in Minneapolis, MN. Hit him up for some sick ink and make sure to tell him KJ sent ya--he might even give you a free sticker.

Jordan Homstad (they/them) is a Minneapolis-based visual artist who works primarily in acrylic paint. They are currently pursuing a Bachelor of Fine Arts and Art History at the University of Minnesota. Homstad's work centers around the emotional, social, and existential impact of technology on contemporary life. Their paintings explore and investigate parasocial relationships with new forms of social media; often questioning and interrogating the hypersexualized female form using narrative to emphasize the ways in which it connects its users back to society.

Kayla Mattes (she/her) is a visual artist working across disciplines including weaving, sculpture and installation. She archives the ephemeral vernacular of digital culture through the interconnected threads of tapestry. Currently based out of Los Angeles, Mattes is represented by Richard Heller Gallery.

Kieran Myles-Andrés Tverbakk (they/them) is an artist from Houston TX, currently living and working on Dakhóta land (Minneapolis-St. Paul). They create mixed media artwork exploring dichotomies within their experience as a first-generation Mexican-Norwegian-American who is also non-binary transgender. Their interests lie in how we as humans divide ourselves socially, politically, and physically.

Lee Noble (he/him) is a musician, performer, and visual artist moving between sound, video, collage, and installation. He is the designer and co-founder (along with Stephen Molyneux) of No Kings Record Co., a cassette label focused on field recordings, ambient, drone, and experimental music, as well as Night Club (along with Emma Beatrez), a transdisciplinary, conceptual art study and activity group, and Vague Intl., a new publishing imprint. He has performed at venues and festivals in the US, Europe, and Japan, including Sonihouse (Nara, JP), Hopscotch Fest (Raleigh, NC), Soy Fest (Nantes, FR), Rewire Fest (Den Haag, NL), the Walker Art Center, the Chicago Art Book Fair, the Los Angeles Art Book Fair, the Wire's Adventures in Modern Music Fest (Chicago), Human Resources (Los Angeles), Temporary Space (Los Angeles), EMS (Stockholm) and Issue Project Room (Brooklyn). His visual work has been exhibited in Los Angeles, Austin, Minneapolis, New York, Manchester, and Berkeley, and in publications by Picturebox Inc., Thames & Hudson, Spector Books, and Secret Headquarters.

---

Paradisce: A Spring Break Beach Collection
Uselding Fridays
Virtual Event


Launching Friday, April 2, 2021



Waiting Room x backroom are pleased to present to you, Joshua McGarvey's latest collection in experimental fashion, Uselding Fridays Paradisce.

This collection is a collage of processed product. Paradisce is like hot nacho cheese in Cancun on Spring Break. It's not a celebration of the memory but a reflection on the acceleration we have experienced since a guy got his tongue pierced on TV standing next to Carson Daly at the Spring Break Beach House—I don't remember if Carson was dating Tara Reid at this point in time, so the exact year escapes me. But seriously, I recently watched a live stream of the Minnesota Orchestra performing a percussion ensemble called "Perfectly Voiceless'' composed by Devonté Hynes and everyone should listen to the song.

A professor once told me, "Paradise isn't real and trying to get there is like staring into the sun, it will blind you." I don't know what that means, but I do think paradise is an oversaturated concept. So my collection is called Paradisce, which is just paradise misspelled.

---

Sweetheart Market 02
Virtual Sale
Febrary 12th-14th, 2021

Featuring
Emma Beatrez
Stranger & Co.
Rachel Collier. x Wacks Co.
Benjamin Merritt
Bree Meyer
Sarah Nicole
August Schultz
Forrest Wasko
Wretched Flowers

Waiting Room x backroom present the second annual Sweetheart Market. This year we are doing things a little differently and going completely virtual. Head over to our sister-site, backroom, to see the full catalog of artwork available at this years sale! We have handpicked goodies and artwork from our favorite shops and artists. Join us in celebrating yourself, your loved ones, and art!


About the Artists


Emma Beatrez

Emma Beatrez is a transdisciplinary artist from Minnesota. They graduated from Minneapolis College of Art and Design in 2020 with a MFA in Interdisciplinary studio art. Beatrez received their BFA with an emphasis in oil painting at North Dakota State University in 2018. Their recent work deals with ritual, body, proxemics, desire, and simulation through material, light, sound, and scent explorations.

Stranger & Co.

Stranger & Co. is a small, woman-owned shop focused on making high quality design accessible and fairly priced. We primarily represent artists and designers who are women, people of color, lgbtq, and immigrants. Our ethos is one of inclusion, accessibility, and visibility.

Rachel Collier & Wacks Co.

Rachel Collier handcrafted a new line of candleabras. These multifunctional and refillable candleholders will accentuate any interior with a dash of whimsy and sparkle. She's even got all your wax needs covered by locally sourcing a handful of alluring scented votives, sticks and tealights from Wacks Co.

Benjamin Merritt

Benjamin Merritt is a printmaker based out of Minneapolis, Minnesota. His work affirms & celebrates the experience of chronic illness & disability through text and printmaking. In the printing studio, he creates copperplate etchings, scraping away & altering the copper to show a long history of marks on the final print. His markmaking is visceral on the paper, a translation of lived experience into inscription.

Bree Meyer

Bree Meyer is a self-taught artist based out of Minneapolis, Minnesota. When she isn't jammin' with her band, Double Grave, she's creating captivating weavings on her floor loom.

Sarah Nicole

Twin Cities-based artist Sarah Nicole specializes in quiet contemporary watercolor painting and bodily sculpture. The intimacy of her work invites closeness with the viewer that reveals an inventive complexity. Her emphasis on an overall beautiful but poignant aesthetic seduces a sense of empathy or thoughtfulness for a suggested human presence.

August Schultz

August Schultz is an interdisciplinary artist based out of Minneapolis. They work mainly in screenprinting and hand-cut text. They will also photograph your wedding if you ask nicely.

Forrest Wasko

Forrest Wasko is an artist living in Minneapolis, Minnesota. His work investigates multiple vernaculars present in photography; specifically within observational photography, snapshots, and found images. Wasko also works with a vast variety of formats and photographic processes to create photo-objects, series, and books.

Wretched Flowers



Wretched Flowers

is a collaboration between two artists using ceramic, textiles, foraged floral design, and digital media to raise questions about ethnobotany and interspecies collaboration. All of our plant material is either foraged or harvested on our property in New Fairfield, Connecticut, USA.
---