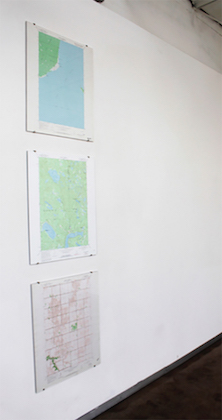 Current Location

January 15–February 28, 2016
Opening Reception: Friday, January 15th, 7–10pm

Featuring Joseph G. Cruz, Kristina Estell, Isa Newby Gagarin, Jessica Henderson, David Horvitz and Kathryn Miller

"…as long as we stick to things and words we can believe that we are speaking of what we see, that we see what we are speaking of, and that the two are linked."

-- Giles Deleuze, Foucault.

Co-curated by Mary L. Coyne and Jehra Patrick, Current Location is a meditation on representing and understanding cosmological and geographical space. The six artists included in Current Location practice within the ontological gap between representation and viewer, and draw on digitally and historically archived materials to render sensible the distinctly contemporary experience of existence-beyond-place.

Featured works offer cues like the compass arrow of Google earth, spectrographs of starlight, simultaneous iPhone videos shot from across continents, maps and images found in institutional archives, and mail art that physically circumnavigates the globe through economical trade-driven shipping routes. These are gestures toward systems constructed over an expanding history of technological development: the ever-shifting modes of representation on which we rely to comprehend, calculate and delineate the real and imagined vagaries of proximity and distance. The artists in the exhibition each explore how we identify our sense of place via the effects of cartographic languages and archived histories. Together these artworks make visible the apathetic existentialism of our daily validation of 'current location.'

The exhibition is welcomed by an opening reception on Friday, January 15th, from 7–10 pm.

Joseph G. Cruz's research-driven and interdisciplinary practice is fueled by an enthusiasm towards the history and philosophy of Science. His interdisiplinary work examines how systems of exploration are mediated and then disseminated into the larger culture. Cruz is currently completing a Master's in Sculpture at the University of Notre Dame, where he is a GLOBES Fellow in Environment and Society. He received his BFA with an emphasis in Sculpture and Sound at the School of the Art Institute of Chicago and has exhibited at Hyde Park Art Center, IL; The Soap Factory, MN; Phoenix Institute of Contemporary Art, AZ; Slought Foundation, PA; and Cabinet Magazine's Exhibition Space, NY.

Kristina Estell is a visual artist interested in the reflection of the human gesture within natural and built environments. Using a wide variety of processes and materials, she creates sculpture, site-specific installations, and two-dimensional works that create uniquely sensitive experiences. Estell is a graduate with Distinction of Herron School of Art at Indiana University and holds an MFA from the University of Minnesota. She has exhibited nationally and internationally as well as attended artist residencies in the US, Japan, Germany and Hungary. Estell has recently been honored as a 2015/16 McKnight Fellowship recipient.

Born in Guam and raised in Mililani, Hawai'i, Isa Newby Gagarin is currently based in Minneapolis. She received her BFA from the Minneapolis College of Art and Design in 2008. Gagarin has held solo exhibitions at Midway Contemporary Art; Art of This; Dressing Room; Kiehle Gallery; and Rochester Art Center. Her work has been included in group exhibitions at David Petersen Gallery, the Soap Factory, Soo Visual Arts Center; Hyde Park Art Center, IL; Chicago Artists Coalition, Synchronicity, CA; and Grimm Gallery; Amsterdam. Her practice has been underscored with publishing numerous artist books.

Jessica Henderson is mixed media artist, freelance graphic designer and Assistant Professor of Design at Bethel University. She has her MFA from Minneapolis College of Art and Design and has exhibited work at Burnet Gallery, Soo Visual Art Center, Minneapolis College of Art and Design, and The Soap Factory, and is currently an Art(ists) On the Verge 7 fellow. She lives in St. Paul with her husband, 18-month old twin boys, and dog.

David Horvitz was born in California and lives in Brooklyn. Recent solo exhibitions include Jan Mot, Brussels, and Dawid Radziszewski Gallery, Warsaw; Peter Amby, Copenhagen; Statements, Art Basel; Kunsthal Charlottenborg, Copenhagen; and Chert, Berlin. His work has been shown at EVA International 2014, Glasgow International 2014; LIAF 2013; Museum of Modern Art, NY; The Kitchen; Blum & Poe; and the New Museum. In New York, he has realized projects with Recess, Clocktower Gallery, post at MoMA, Printed Matter, Rhizome, and Triple Canopy. He has received the Rema Hort Mann Grant in 2011 and was nominated for the Discovery Award at Les Rencontres d'Arles in 2011. In 2013, he founded Porcino gallery in Berlin.

Kathryn Miller's work in sculpture and drawing spans scales and materials in order to question ways of being in the world, geological gesture, and the essence of physical work. She received a BA from Lewis & Clark College in Portland, OR, and is currently working on her MFA in Visual Studies at the Minneapolis College of Art and Design. She has conducted wilderness research and mapping projects in Alaska, Arizona, Germany, Austria, Crete, and Turkey. Her work has been exhibited throughout the United States.

Mary L. Coyne is a curator and writer currently based in Minneapolis where she is a Research Fellow at the Walker Art Center. Her writing has appeared in AfterImage, Artpulse, Droste Effect, the Journal for Curatorial Studies and Museum and Curatorial Studies Review among other publications. She has curated exhibitions in Los Angeles and New York, where she ran Pseudo Empire, a non-commercial art space. In 2015 Coyne completed a curatorial residency at the Luminary Foundation (St. Louis). Coyne holds a MA in Curatorial Studies from California State University, Long Beach and a BA in Art History from the University of Southern California.

Waiting Room would like to thank Chert Berlin, Are Not Books, and New Documents for working with us on this exhibition.
---