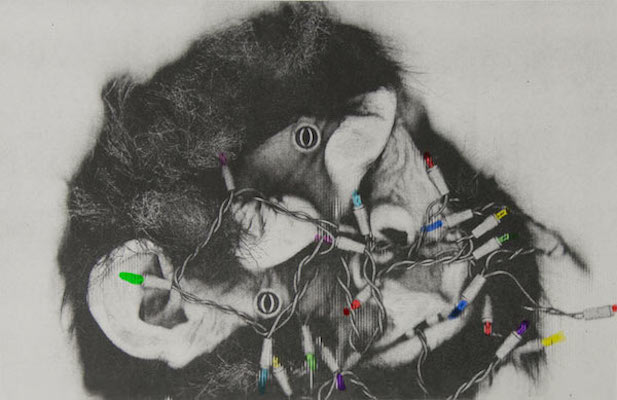 Kuras & MacKenzie
March 11–May 8, 2016

Waiting Room is pleased to present Kuras & MacKenzie, featuring new work by collaborative duo Christian Kuras and Duncan MacKenzie.

Kuras and MacKenzie celebrate our slippery relationship with meaning. They get lost in a comic and carnivalesque quest for truths, all while approaching their work with the stalwart humor of those who recognize the absurdity of being complicit in resisting and assisting the madness of life.

The works in this self-titled exhibition are eclectic and varied in subject and media. The artists' collaborative practice is omnivorous in its search for sources of energy and inspiration, and often the work takes the form of paintings, sculptures, prints and installations.

Their practice gives form to a naive interest in the world – a vague, but true, commitment, which carries a felt and somewhat rueful search for authenticity. There is no embarrassment that the mere possibility of such a thing is the product of romantic thinking. Flights of fancy are embraced and the deeply ironic and the pleadingly sincere exist side-by-side. Perhaps this is the reason that the apparent "naiveté" has become tinged with something else; maybe experience or hard-won cynicism. For the last decade, the duo has sought to suggest or embody the moment our collective understanding shifts to reveal the very real limits of an individual's capacity to exert some kind of control over their own life and the collapse of their ability to even muster the illusion of that "control."

The exhibition features, Diagrams, a book that collects 49 diagram drawings made between 2009 and 2014 and an essay pulled from a conversation between the artists and the Canadian math scholar, Matthew Scott. These 'diagrams' are an attempt at using the objective visual language of mathematical diagramming to illustrate some of the most important concepts we use to underpin our subjective understanding of the world. In what seems like a hopeless task, the central concern is not how these must inevitably fail to communicate in a truly objective way, but how they might actually succeed.

In their own words Kuras and MacKenzie, "…stumble on, punch drunk, over-extended, under-actualized, but optimistic and cautiously absorbed. The inevitability of finitude hasn't crowded in on us yet, for us, there is no resignation."

Kuras & Mackenzie is a partnership of Christian Kuras and Duncan MacKenzie. MacKenzie is based in Chicago, IL, and Kuras is in Manchester, United Kingdom. Their transatlantic partnership has yielded significant exhibitions across Canada, the United States, and Europe. Their work has been featured in Art in America, artforum.com, and AfterAll journal.
---