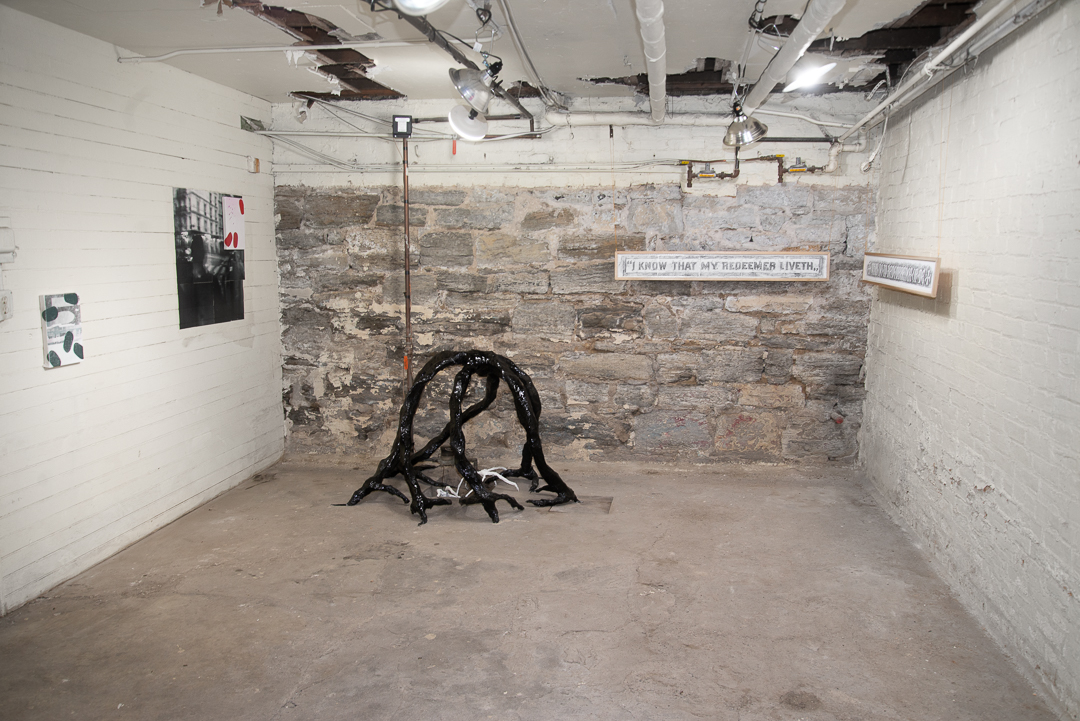 camedowndifferent
homeroom
Group Exhibition
June 6, 2021-July 7, 2021

Featuring
Kate Burke
Andrew CS
Micah Dillman
Sam Dirck
Harrison Wayne Gallo
Rene Gibson
Reade Gosen
Jordan Homstad
Kayla Mattes
Kieran Myles-Andrés Tverbakk
Lee Noble

After nearly a year without formal programming or events, Waiting Room is eager to welcome guests into their new space, homeroom, and celebrate with peers and patrons.

Off the intersections of Franklin and Chicago, in the heart of Ventura Village, is Waiting Room's newest exhibition space homeroom. The building itself is currently home to Waiting Room's director Kristina Johnson (KJ). homeroom situates itself far from the traditional gallery space by preserving the charm of its history that enhance the curatorial perspective and bring attention to it's architecture and age. The perimeters of the showrooms date back to 1893 and are constructed from laid stone, brick, and shiplap. Exhibitions in our forthcoming season feature an impressive array of contemporary talent that expand the growing genres in identity culture and technology.

The selected works featured in our inaugural show, camedowndifferent, come from ten emerging and established artists living across the US. camedowndifferent offers unconventional associations between artists seldom exhibited together, implicitly exploring the diverse relationships amongst their medias. Works in this show harness feelings of existential mortality by the visual signifiers through use of coded imagery and language in order to provide a particularly overwhelming sense of one's humor, memory, and conditional identity. There's a breath – well, a lot of breaths – of edifying inward energy available in that approach, and that's exactly where these artists shine their spotlight. Altogether the works exhibit a surge of communal confidence in the face of the last year's upending travails.

homeroom is devoted to experimentation, discussion and the production of exhibition projects, presentations, lectures, and publishing ventures in collaboration with artists, curators, independent and institutional actors. The exhibition program is mainly focused on a new generation of artists who are rarely exhibited in the Twin Cities or Minnesota.

Kate Burke (she/her) is an Atlanta-based mixed-media and textile artist. Kate graduated with honors from the University of Georgia, receiving her BFA in Fabric Design in 2016. While in school, she received the Mary Rosenblatt Art Scholarship and recently received the ArtFields 2019 Category Award for Textiles. Kate has shown at the Lyndon House Art Center, ATHICA, Sulfur Studios, the Lamar Dodd School of Art, Hartsfield Jackson International, whitespec, as well as other galleries and art centers throughout the southeast. Kate recently returned from a residency at the Hambidge Center, with thanks to the Hambidge Center Fulton County Scholarship.

Andrew CS (he/him) is a web designer, creative programmer, and media-agnostic artist living in Chicago, IL. Andrew is interested in media as memory, or media over time, or something like that. Memory in the mind forms misty trails, but media (ink, computers, microphones, objects, & data) can create discrete imprints of time and pace at a given resolution. Make an archive of these and you have a time capsule, a prosthetic memory, or a time travel mechanism. Just as memory must define oneself (as the sum of experiences) so too does the archive. Kept close these efforts become a record of gestures made, places felt, still listening sessions, observations, time with friends, and time to oneself.

Micah Dillman (they/he) is a queer performance and textile artist based out of Chicago, IL. His textile and fiber work commonly employs motifs and materials that recall associations to early childhood stages of development. Early learning experiences are the basis of how we inform our identity as adults and especially how we internalize the performative behaviors relative to a constructed gender identity. Dillman's work explicitly questions their agency in that experience.

Sam Dirck (he/him) accommodates limitless arrangements of environments that criticize the function of one's spatial relationship to design. His use of materials reinforces the idea that our identity is moulded through memories and that we exist paradoxically as multiple selves.

Harrison Gallo (he/him) is an artist born and raised in Atlanta, GA. Having worked in research and industrial laboratories as an experimental chemist for several years, his practice is informed by a reckless passion for research, rapid prototyping, and making sense out of errant data points. Approaching new concepts and materials with a capricious yet obsessive attitude, his current work mixes carbon media, recycled industrial waste materials, and religious motifs in order to explore his overlapping experiences with grief, memory, and sex.

Rene Gibson (he/him) is a painter that lives in New Zealand.

Reade Gosen (he/him) is an interdisciplinary artist working mainly in music (as Sweet Reade) and body art. He's the orignal real daddy badass of Minneapolis and also your favorite uncle. Gosen employs his sharp wit and sense of humor to relay the absurdity of modern life. Currently, he is tattooing out of Sea Wolf Tattoos in Minneapolis, MN. Hit him up for some sick ink and make sure to tell him KJ sent ya--he might even give you a free sticker.

Jordan Homstad (they/them) is a Minneapolis-based visual artist who works primarily in acrylic paint. They are currently pursuing a Bachelor of Fine Arts and Art History at the University of Minnesota. Homstad's work centers around the emotional, social, and existential impact of technology on contemporary life. Their paintings explore and investigate parasocial relationships with new forms of social media; often questioning and interrogating the hypersexualized female form using narrative to emphasize the ways in which it connects its users back to society.

Kayla Mattes (she/her) is a visual artist working across disciplines including weaving, sculpture, and installation. She archives the ephemeral vernacular of digital culture through the interconnected threads of tapestry. Currently based out of Los Angeles, Mattes is represented by Richard Heller Gallery.

Kieran Myles-Andrés Tverbakk (they/them) is an artist from Houston TX, currently living and working on Dakhóta land (Minneapolis-St. Paul). They create mixed media artwork exploring dichotomies within their experience as a first-generation Mexican-Norwegian-American who is also non-binary transgender. Their interests lie in how we as humans divide ourselves socially, politically, and physically.

Lee Noble (he/him) is a musician, performer, and visual artist moving between sound, video, collage, and installation. He is the designer and co-founder (along with Stephen Molyneux) of No Kings Record Co., a cassette label focused on field recordings, ambient, drone, and experimental music, as well as Night Club (along with Emma Beatrez), a transdisciplinary, conceptual art study and activity group, and Vague Intl., a new publishing imprint. He has performed at venues and festivals in the US, Europe, and Japan, including Sonihouse (Nara, JP), Hopscotch Fest (Raleigh, NC), Soy Fest (Nantes, FR), Rewire Fest (Den Haag, NL), the Walker Art Center, the Chicago Art Book Fair, the Los Angeles Art Book Fair, the Wire's Adventures in Modern Music Fest (Chicago), Human Resources (Los Angeles), Temporary Space (Los Angeles), EMS (Stockholm) and Issue Project Room (Brooklyn). His visual work has been exhibited in Los Angeles, Austin, Minneapolis, New York, Manchester, and Berkeley, and in publications by Picturebox Inc., Thames & Hudson, Spector Books, and Secret Headquarters.

---